Happy Thanksgiving! I hope you spent the day surrounded by loved ones, with minimal chaos, lots of wine, and extra portions of stuffing. The surprise hit on our table was an onion soufflé, which is pretty much guaranteed to send our Thanksgiving sandwiches over the top this year. So while I kind of feel like I never need to eat again, I'm also anxiously awaiting dinner. Typical.
Over the past decade — while cooking in either my own kitchen or restaurant kitchens — I've come to pretty strong conclusions about which gadgets and tools are must-haves, and which take up drawer space. Given that the season of gifting is upon us, I thought I'd share some of my favorites.
This is hands down the most used item in my kitchen: the mighty fish spatula! I use this for everything. From lifting cookies off a baking sheet, to flipping pancakes, to turning over perfectly seared salmon. This is the exact brand I have (currently on sale for $5!), and it's lasted me 7 years without the slightest bit of wear and tear. If you don't have one already, buy this. You can thank me later.
Unsure whether food is cooked to the perfect temperature? Stop guessing and buy a Thermapen. It's accurate every single time. So no more poking your steak and wondering. Also, they come in fun colors (we have blue)! Currently 20% off!
Salt cellar — I have two of these, and they sit by my stove at all times. One has good ol' kosher salt (my default) and the other has malden sea salt, which I primarily use for finishing dishes and to top off my daily avocado toast.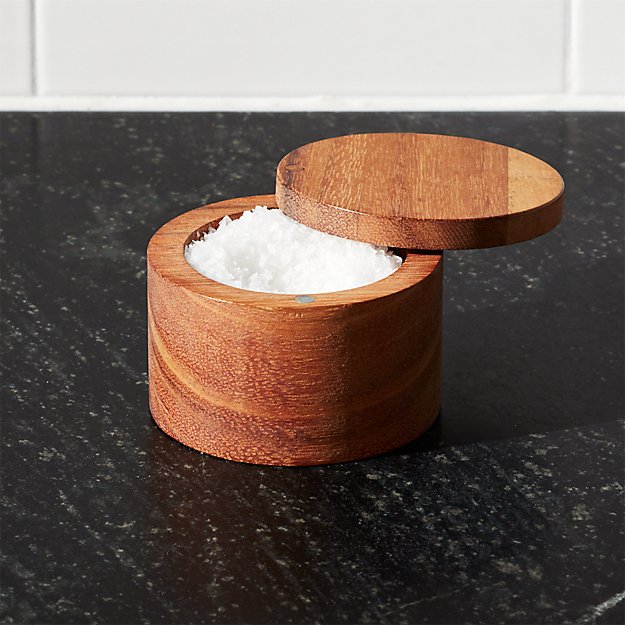 Small Epicurean cutting board. Some cooks swear by the heavy John Boos cutting boards, which I really, really want to love, but after buying one a year ago I returned it within days because of the weight alone. Our counter space is limited in this kitchen (likely because I keep so many gadgets out…), but I can't have a cutting board taking up valuable counter space, and that is impossible to move without pulling a muscle. I turned to one of my close friends, who also practically lives in his kitchen, and he recommended Epicurean. After our discussion, I immediately went out and bought two of these, one small (pictured below) and one large. And he immediately went out and bought a John Boos cutting board… you know, for research.
My absolute favorite mixing bowls! I love these so much that I own multiple sets. They are lightweight, have an easy to hold handle on one side, nonslip bottom, and a spout that makes pouring liquids easy. Can't say enough about them, and they come in a variety of colors!
Prep bowls. Are you the person who preps ingredients as you work your way through a recipe? Make your life easier and get everything set up and ready to go before you cook (what chefs refer to as mise en place, and it's important!). These small stainless steel bowls will help you stay organized. Mine are literally always within reach. Tip: get them in various sizes!
Anyone planing to peel a lot of potatoes this holiday season (hello, LATKES!)? Do you have a terrible peeler? That's about to change. This magnetic set of three peelers is likely the last one you'll ever buy. I recommend them to all of my friends and have even been known to send them to family members who are stuck in the dark ages.
The Revol roasting dish. AKA: the best bakeware I have ever owned. I bought the 3.8 qt dish last Thanksgiving when my stash needed an upgrade, and after a year of use I am convinced that it is the most amazing baking dish on the planet. Perfect, even cooking. Easy to clean. Beautiful to look at. Can't ask for much more (except maybe to own them in multiple sizes).
For the pro-cook in your life: one of my favorite toys for someone who loves to play around with cooking techniques — the Anova sous vide! Currently on super sale ($109) via Amazon (and likely through the holidays).
If you're in need of a new toaster oven, LOOK NO FURTHER. And if your older toaster oven is still working just fine, may I suggest taking a mallet to it so you have an excuse to buy this instead? The Breville Smart Oven Pro reigns supreme in every way. I use ours daily, from perfect toast every.single.time to homemade ruggelach that come out better than using our regular oven. You can likely find an amazing deal on this over the holiday season, so shop around, but currently on sale for $250 on Amazon. And if you're concerned about counter space, they offer a smaller version as well!
This is clearly a splurge item, but I had to give a shout out to my KitchenAid stand mixer. If you've been saving up to buy one, the holiday season is the best time to snag it at a great price. While I obviously could live without it, I really don't want to. Mixers are great for whipping up doughs and batters, but I use it most often to make homemade whipped cream on the fly. Seriously, it's the reason I always keep heavy cream in the fridge.
What am I missing? What are your favorite gadgets?
I could go on forever. But I'm hoping there's maybe one or two items in here you didn't know you needed (FISH SPATULA, seriously). If you purchase anything for yourself, be sure to send me feedback on whether the item lives up to the hype, because I honestly love them all.
To everyone braving the crowds and getting a head start on their holiday shopping this morning, good luck! I'll be hanging out at home in my sweatpants while my kids duel with light sabers in the background. Happy holidays!